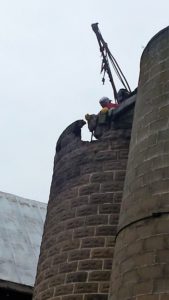 The silo roofs are finished, and they look great! Thank you to our members, corporate sponsors, and everyone who has supported our fundraising​ efforts this year. Without your financial support, this restoration project would not be possible.
These 2 silos are from the original 19th century dairy farm and were used to store feed for the cows. Over time, the silos have begun to weather and deteriorate. By removing the damaged blocks along the top and adding new dome roofs, we hope to preserve the silos for years to come. Replacing the dome roofs will also allow to use the silos for storage once again. After we finish repairing the silos, we hope to begin renovating the iconic big red barn, which sits at the heart of Greens Coulee.
Please consider supporting our preservation efforts by making a donation toward barn renovations. To make a donation online, please click here.