Join our Board of Directors
If you or someone you know has experience in accounting, grant writing, or business management, please consider becoming a member of Clearwater Farm's Board of Directors. Work with a dedicated team of individuals who are committed to building a healthy community, promoting sustainable food systems, and educating youth through the preservation of a historic family farm.
For more information, please contact Clearwater Farm's Board President, Shari Collas, by emailing scollas@clearwaterfarm.org, or calling (608) 780-5682.
Volunteer Opportunities
Join a Volunteer Team
Joining a team is on a volunteer basis. This does not require a commitment, but we hope that once you get involved in your team of choice, that you will LOVE the experience! Because of our teams & volunteers, we can provide a place for the members to enjoy family time & help preserve historical, agricultural, natural & architectural resources.
Animal Team
The Animal Team at Clearwater Farm consists of individuals, families, groups that care for our animals with 1 shift in the morning and 1 shift in the evenings.  These people are truly the "heart & soul" of the farm. No matter the weather, these amazing people feed, clean up after and love our animals.  These shifts consist of 2 hours (approximately) of your time one day a week.  We have a set schedule and depending on timing, we may or may not have opportunities available. But don't worry…we will train you and you can be on our substitution list. The benefits are life changing for many of our team. They also get to enjoy fresh farm eggs as one example of the perks. If you're interested in a "hands on" experience this is the place for you!
Currently our animals consist of: llama, goats, sheep, chickens, donkeys, miniature horses, and cats! You'll meet them all!
Please call Shari Collas at (608) 780-5682 for available shift hours. 
Education Team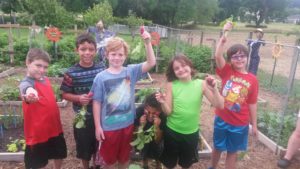 Do you enjoy working with kids in the great outdoors? Do you have a special skill you would like to teach to others in the community? If so, please consider joining our Education Team, led by experienced educators and dedicated volunteers working together to spread Clearwater's mission to demonstrate, teach, and advocate the sustainable use of natural and agricultural resources. We are always looking for new ideas to further expand our growing education program. To learn more about our education programs, click here.
We are currently looking for volunteers to help assist with monthly family activities and our Youth Education Gardens. For more information, please email Katie Wellnitz at education@clearwaterfarm.org.
Garden Team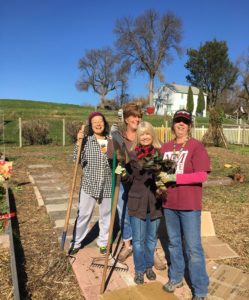 Our community garden ROCKS!  It's a wonderful group that works together and shares in the garden's abundance.  This team of volunteers would love to meet you!  All excess is delivered to the area food pantries.  No experience is necessary…really!  Commitment is generally 2-3 hours per week and of course, it's all seasonal.  The garden also offers: strawberries, raspberries, herbs, mushrooms, rhubarb, etc.  It will supply your family with delicious fresh produce!.  Composting is very important at the farm and a major source of fertilizing.  The garden is as organic as we can get it!  We use no pesticides.  Join the team for great conversation, learn more about gardening, and make some new friends along the way. To learn more about our Community Garden, click here.
Please contact Jean Irons at jirons@clearwaterfarm.org.
Grounds Team
This team consists of handy people willing to help with the general upkeep of the farm and grounds.  Mostly seasonal work. If you love to work outside this is the team for you!  Mowing, trimming, painting, woodworking projects, fencing/repair. etc. Good news about this team opportunity is that you can join and help out weekly or just assist with special projects. Contact Jeff Sharp at (608) 790-6993.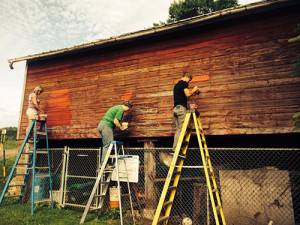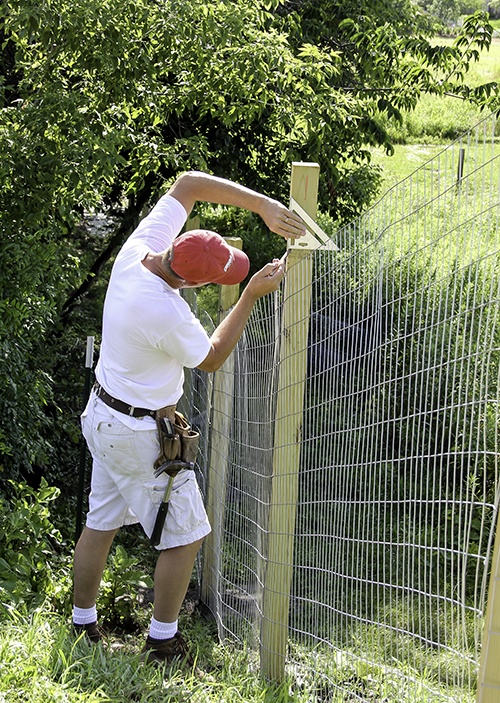 Special Events Team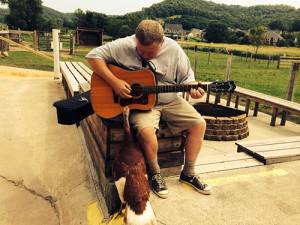 This is the time for the farm to shine and you can be a large part of it! Numerous events are scheduled throughout the year at the farm such as Wine and Beer Tasting, Spooktacular kids Day, Open House and more! This team gets the fun opportunity to plan and implement our events. A large part of our fundraising is via the Wine and Beer Tasting in August is the Silent Auction at this event. If you love organizing, planning, decorating, then this is the group/opportunity for your talents!
Please contact Shari Collas at (608) 780-5682 or Michelle Grimm (608) 769-5112.