The Community Garden of Clearwater Farm
Grow with Us in 2017!
We believe that real food can be a powerful vehicle for making our world a better place. Everyone eats and everyone has a relationship to food.  We strive to strengthen that relationship so that you, your family, and your friends feel healthier, stronger, and more connected to the land and your community.
Garden Volunteers Needed
Meet new friends, learn new skills, and give back to your community by
Building garden beds, trellises, and walkways.
Planting, weeding, tilling, and harvesting fresh produce.
Watering, composting, and mowing.
Helping with Fall and Spring Clean-up.
Tending to food donations.
Register to volunteer today!  Your family and community need you.

Open Garden Hours
Mondays, 4-7 p.m.
Thursdays, 5-7 p.m.
Saturdays, 8-11 a.m.
A 2-3 hour commitment per week throughout the season is necessary to participate in taking produce home.
Please contact Jean Irons at jirons@clearwaterfarm.org to get involved today!

Clearwater Garden Partnerships
We are proud of our Community Garden Partnerships.  This year our partnerships will include the Onalaska Food Basket, Onalaska YMCA, and the Clearwater Farm Youth Education Gardens program.

Garden Rules
1. 2-3 hours a week of your time is all that is needed to keep the garden beautiful and productive.
2. Sign in, write the hours you worked, and what was done. (We need this for grant writing and other proposals.)
3. Keep our garden beautiful. A tended plot is a happy plot. Weed inside and around the beds and pathways. Weeds get transported to the marsh area for disposal.
4. Harvest and Distribution Time – it is great see the fruits of our labor, but here are the guidelines for distributing the food:
– Harvest takes place at the end of the work session.Everyone harvests and places the fruits/veggies on the porch of the shed.
– Volunteers who have spent the most hours in the garden – get the first pickings. (We have plenty of food to go around).
– Any produce left after distribution goes to the local Food Basket.
5. We encourage children to help in the garden; however, they must be supervised.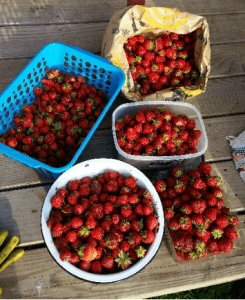 6. We grow organically. If you see some sick or diseased plants, please let the garden leaders know. We'll either remove the plant or find a safe way to treat it.
7. Return all tools and equipment back to its proper place.
8. Last out locks up the gate(s).
If you have any concerns or great ideas, please share. The garden is only as great as the ideas that get cultivated.
Have fun and enjoy the garden!
Open Garden Hours
Mondays, 4:00-7:00 p.m.
Thursdays, 5:00-7:00 p.m.
Saturdays, 9:00-11:00 a.m.
Email Jean Irons at jirons@clearwaterfarm.org to get involved today!
Garden Newsletters