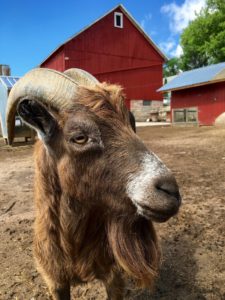 We want to remember Gus the Goat, our longtime friend of Clearwater Farm. Gus passed away in February of complications from old age. He was 14 years old at his passing and will be sadly missed. He was purchased in Waverly, Iowa, at an animal swap meet almost 15 years ago. The Czechowicz family from La Crescent, Minnesota, bought him when he was just six weeks old. He lived on their hobby farm for the first eight years of his life before coming to Clearwater Farm.
No one is quite sure of his breed, but he had these massive horns and wonderful disposition. He also had a huge tummy! Many have asked if he was having a baby because he was so round. Many of us at the farm considered him one of our favorites. He was so very friendly and he loved to be scratched and loved.
We will surely miss him and thank the Czechowicz family for donating him to Clearwater farm so many years ago. We will cherish our many fond memories of Gus the Goat!