FREE Family Fun Night!
Wednesday, August 16
5:30-8:00 p.m.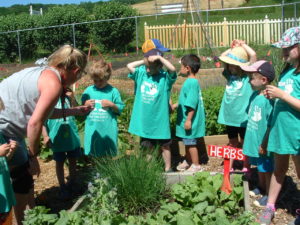 To celebrate another successful growing season in the Kids Garden, we invite participants and their families and community supporters to come together for our 3rd annual Harvest Celebration. Join Mayo Clinic Health System Franciscan Healthcare Executive Chef, Heather VanHorn, and Registered Dietician, Kathy Oslund, for their family friendly cooking demonstration. Try samples, learn nutritious tips and explore garden fresh ingredients that make your family's next meal burst with flavor. In addition, Pam Starcher from the Yoga Place will teach yoga for all ages and abilities, and volunteer beekeepers will demonstrate how to extract honey. Meet live farm animals, tour the Kids Garden, and more! This event is free and open to the public.
5:45-6:30 Yoga by The Yoga Place
6:30-7:00 Cooking Demonstration by Mayo Clinic Health System Franciscan Healthcare
Additional Activities: Garden Tours, Beekeeping Demo, Live Farm Animals, Recycled Crafts, and More!
garden newsletter week7 2017