Youth Education Gardens
Our youth and young adults had opportunities to plant, tend, and harvest fruits and vegetables from the garden. Cooking with produce from the garden was also a highlight! Our students and adults learned some very valuable life skills that they will be able to use the rest of their lives.
– Catholic Charities

What's Growing On – A weekly newsletter with gardening tips, recipes, and more!
Week 1 – Welcome; Container Gardening; Creamy Strawberry-Orange Pops Recipe
Week 2 – Upcycling; Memories from Week 1; Rhubarb Lemonade Recipe
Program Overview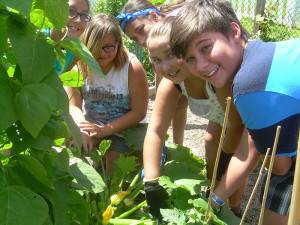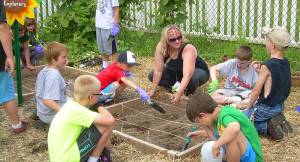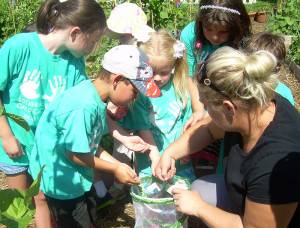 Purpose: Participants will learn how to grow fresh food on a budget in a small, manageable space. Many of our participants have special needs, and gardening serves as a vehicle for teaching social and emotional skills such as teamwork and respect. We also promote other healthy life skills such as food preparation as we harvest the produce and physical fitness through outdoor recreation.
In 2017 we will be focusing on PERMACULTURE and UPCYCLING. Permaculture promotes the idea that a garden should be designed with nature in mind, promoting less work, conserved energy, and reduced waste. Upcycling is the process of converting old or discarded materials into something useful and often beautiful, thus reducing our impact on the environment.These two themes will be incorporated into nature crafts, group games and projects, and nutritious snacks with recipes for participants to take home and share with their families.
Target Audience: All groups are welcome – youth organizations, day cares, home-school families, 4-H and Scout groups, seniors, persons with disabilities, etc. Each group will be assigned two 4′ X 4′ raised beds to care for throughout the summer. Group leaders should email education@clearwaterfarm.org for more information.
Duration: The program runs from mid-June to mid-August, allowing participants to experience gardening from seed to table. Groups meet at the farm for 90 minutes each week.
Cost: We understand the weekly transportation cost required to attend our program in addition to our program fees. We are currently seeking funding from community supporters to provide scholarships for youth groups.
What to expect each week:
An introduction to the week's theme
Caring for your group's garden, including planting, watering, weeding, and harvesting
Exploring the rest of the community garden
Meeting the farm animals
Preparing a healthy garden snack

Group games, nature crafts, and other hands-on activities related to the week's theme
Download our Summer Youth Garden Flyer (PDF) for more information.